If you haven't read my last post on choosing plants for your containers, go back and read that post first. In Flower pots, part II, I am going to share how I decide what to plant, how I choose colors and list some specific plant mixes based on the concept of thriller, filler, spiller for both sunny areas and shady areas.
Deciding what to plant
Each season, I decide the plant and color mix based on an inspiration that I get. That sounds silly now that I'm writing it out (and anyone else singing 'You're my Inspiration' in their head?). Let me share some examples. I have two concrete planters (that I bought from my mailman…long story) that sit on my back patio between two pillars and frame the back double door. I always start with these. Here is how I planted them in previous years:
red, white & blue – We had just moved into our house and were trying to set up the inside while also getting our large front flower bed in. By the time we got to the flower pots, it was the end of June and we were hosting a huge 4th of July / adoption coming home party for some dear friends. So red, white and blue it was!
all white – it had been a difficult season for our family (long and hard adoption), so I wanted calm. Therefore, all white (with some green of course) seemed fitting.
coral – not sure why I chose coral, I was just liking that color (still do).
This year's inspiration
Earlier this season, I was at Costco just after they had received a shipment of citrus trees. Their prices were good and I'm a sucker for plants (surprise surprise!) and have secretly always wanted to be able to have a citrus and avocado orchard. Can you imagine?! The pink variegated lemon trees got me. I put one in my cart, then decided on the way out to add another. I wanted to try and use these as a topiary in my concrete planters. From the variegated foliage and yellow lemons, I chose my colors and plants. With everything going on in our world, sunny yellow seemed appropriate for this year. So honey, apricot colors and variegated foliage was my choice!
My "thriller" is obviously the lemon tree.
The "fillers" are lemon bush eucalyptus, white Euphorbia and caramel heuchera (all plants that happened to be on my to-try list).
Finally, for "spiller" I chose petunia 'Supertunia honey' from Proven Winners.
Repeat colors and /or plants in your other containers
The other flower pots on my back patio are filled with the following:
citronella (I ALWAYS have several pots of scented geranium around our patio to help repel mosquitos. It is super hardy and looks great all season. You can even use it in flower arrangements!)
Boston upright fern (thriller), Euphorbia, citronella, lemon bush eucalyptus (all fillers) and petunia 'supertunia honey' and sweet potato vine in a caramel-plum color (spiller).
David Austin roses 'Desdemona' (white / super pale pink rose)
Hopefully, you get the idea of color and plant repetition. A lot of these same plants are also in my kitchen herb garden that sits just off the patio as well. Now if you're rolling your eyes thinking that this is way too much thought processing for just planters, this next part is for you.
Going to the nursery can be overwhelming when the shade and sun plants are mixed together. And some plants need lots of water while others need little. So here are some specific combinations that will look great together:
Sunny flower pot combinations:
Listed as follows: thriller – filler – spiller
purple fountain grass – geranium (white, pink or coral) or esperanza- sweet potato vine (purple and/or green)
tropical hibiscus (any pink, orange, red) – sweet potato vine (purple and/or green) and creeping jenny (aka moneywort)
olive tree – lavender – trailing rosemary (All of these like drier soil and should be planted in a soil mix that provides good drainage).
salvia – petunias & verbena (these can be both fillers and spillers). Choosing different shades of purple, pink, or white–one color scheme–looks professional. But of course, there is nothing wrong with mixing a bunch of different colors too. Adding in a variegated ivy or asparagus fern would be a great addition.
salvia leucantha (Mexican bush sage) – sweet potato vine (green) & verbena (blue-lavender)
aloe vera – donkey tails (succulents need to be planted in a soil mix for cactus)
alium – heuchera – mondo grass (black if you can find it)
purple fountain grass – coleus (in a copper color) – wave petunia or calibrachoa (trailing petunia in cream with dark centers) 
 
Shade flower pot combinations:
fern (Boston or foxtail) – geranium – English ivy or creeping jenny (moneywort)
foxtail fern – coleus – begonia – ivy
cast iron plant – ferns (woodland or some that aren't as upright) (and impatients if you want some color) – English ivy
caladium (both the thriller and filler)- moneywort or any ivy or fern
heuchera (coral bells, any color, acts as thriller and filler) – mondo grass
northern sea oats – geranium or heuchera (this is one I might leave a spiller off since the sea oats will droop a lot)
fern (Boston or upright variety) – hydrangea or plumbago – green sweet potato vine and asparagus fern
elephant ears – dragon wing begonia and coleus – ivy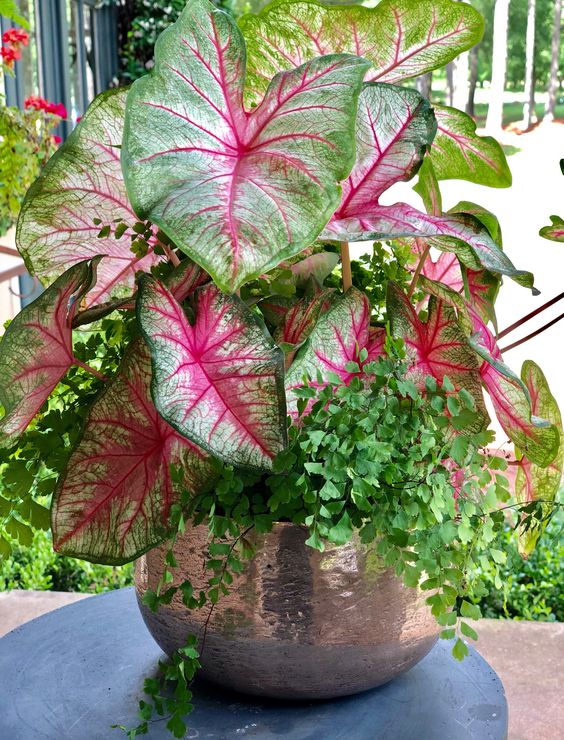 Note: some begonias and coleus need shade while some can take some sun. For begonias, if they have a bronze leaf, that means they can tolerate shade or sun. On coleus, read the tag carefully. Also, while most ferns need shade, macho ferns and foxtail ferns can tolerate a little sun.
I hope this gets you inspired to plan and plant your flower pots for this season! Happy planting!
Katie