Want to know the best roses to grow? With so many beautiful roses to choose from, the decision is challenging. Let's look at some of my favorites and craft a list of roses for you to try.
The list of roses seem endless. Some of my favorite places to dream, follow along (and to buy roses from) are David Austin Roses, Antique Rose Emporium and Menagerie Flowers, which all have well-organized websites by color and even plant type and more. These are fun to peruse and create a list of roses you'd love to grow some day.
Since the numerous options can feel overwhelming, I'm going to share a simplified list of roses that I have tried here at our family farm. I will also share my wish list in case you are curious. I've included either the breeder or seller, but unless you're buying in bulk, your local nursery will be a good place to shop. (Although David Austin Roses and Antique Rose Emporium as well as some others will ship bare root roses. See this post for how to plant bare root roses.
Whites, Creams, Pale Pink:
Desdemona (David Austin Roses)-a gem of a rose. Starts with the palest of pink buds and opens into a cup-shaped creamy flower. Does exceptionally well in hot and humid climates (hello Texas!)
Belinda's Blush (Antique Rose Emporium)-hands down the healthiest rose I grow. Velvety and perfect. Pale peachy-pink opening to cream.
Sugar Moon (Weeks Roses)-a lovely fragrance and good, strong stems. Ivory-white
Easy Spirit (Weeks Roses)-my favorite of the white flowers. Creamy-white
Wollerton Old Hall (David Austin Roses)-a cream-buff colored climbing rose. The newest addition to my roses.
Scepter'D Isle (David Austin Roses)-cotton candy pink, fairly large shrub (so give it room).
wish list:
Tranquility (this seems to be a staple for rose growers selling cut flowers)
Frances Meilland-I had a friend gift me a bucket full of these large blossoms and I knew I needed to add these to my line up.
Sally Holmes-a single white rose (smaller clusters of flowers with fewer petals on the blooms and more open).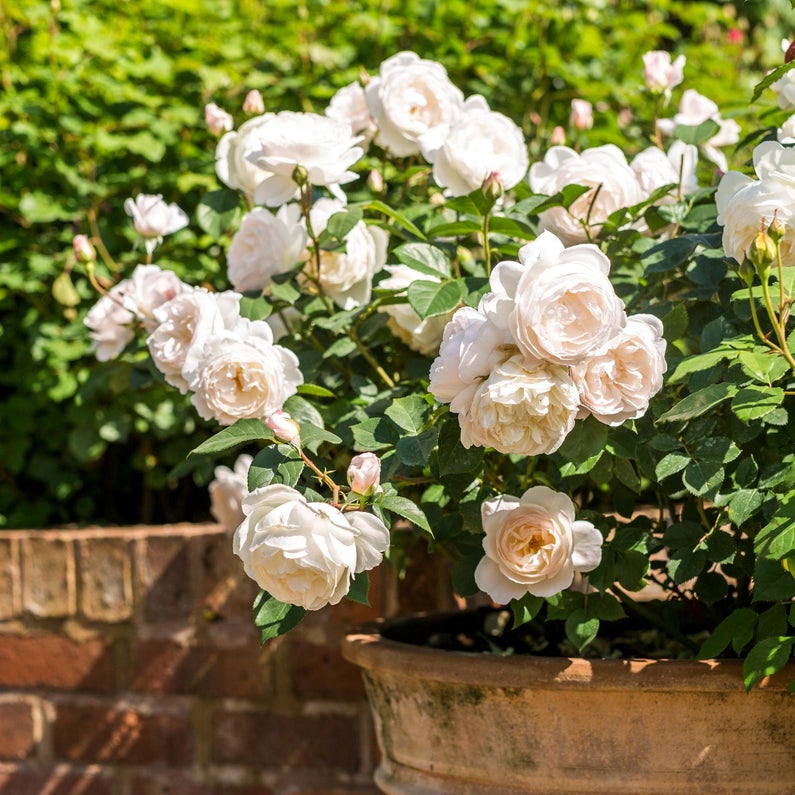 Yellow-Peach-Orange:
The Poet's Wife (David Austin Roses)-rich gold opens to pale yellow with such a yummy lemon fragrance.
Julia Child (widely available)-The color of butter! of course! This bush is very hardy and easy to care for.
Fun in the Sun (Weeks Roses)-golden peach as you would expect. The perfect summer rose.
Marilyn Monroe (Weeks Roses)-large and flirty pale peach. What else would you expect? It's lovely.
Carding Mill (David Austin Roses)-my first David Austin to grow. I learned why you shouldn't plant roses in shade. Like other roses, if planted in the proper location, it thrives.
wish list:
Roald Dahl (David Austin Roses)-a newer variety available to the U.S.-I love a good apricot-peach colored bloom. This shrub delivers that plus is supposed to be disease resistant and nearly thornless. Sounds like a winner!
Neutral / Warm-tones:
Honey Dijon (Weeks Roses)-Maybe my favorite rose. The color of honey, but with a beige tinge. That's a terrible description for a lovely rose that mixes with almost any color palette. Plus, the shrub produces tall, straight stems with clusters of blooms. This one is hard to get your hands on unless you buy in bulk. Reach out to a local flower farmer and ask if they would go in with you on an order. (I have had some slight disease issues with these, but nothing too bad. Definitely worth the grow!)
Koko Loco (Weeks Roses)-a cult favorite for it's pale lavender, dusty beige coloring.
Distant Drums-(Weeks Roses)Ok, I love this rose too. It's similar to Koko Loco, but with a little more color variation. It starts out orchid-pink with a buff center and pales as it opens.
wish list:
Stainless Steel (Weeks roses)-this one has been around and has been used to breed some of the above favorites. A pale, silvery lavender.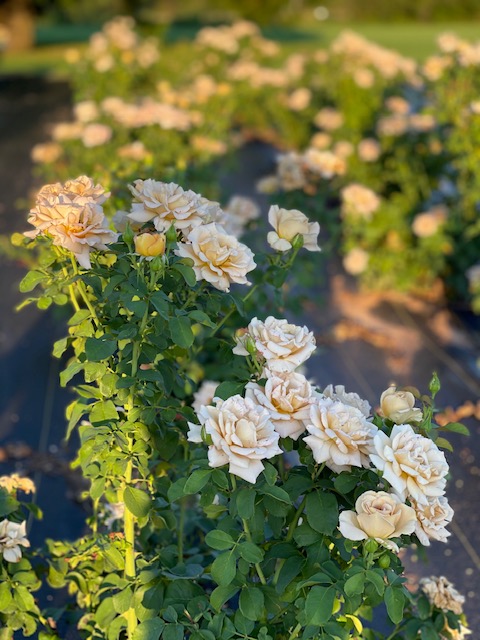 Bright Pinks, Reds:
Boscobel (David Austin Roses)-coral-pink with almost a peony shape and fragrance of fruit and almond.
A beatifully shaped shrub and great for cut flowers. Probably the most commented on rose I grow. It's a must.
Memorial Day (Weeks Roses)-orchid-pink, large, and strong fragrance
Hot cocoa (Weeks Roses)-dusty red, perfect for fall
Munstead Wood (David Austin Roses)-the thorniest rose I grow, but worth it for the large, full deep red blooms that just smell heavenly. I love this one in the fall too.
Now that you have a list…
That either helped you narrow down a list or possibly expanded your wish list. Sorry not sorry. When you get the rose bug, a whole wide world opens up. So many roses and so much history.
Once you've ordered your roses, read this to learn how to plant a bare root shrub. And check this out for how to care for your roses.
Happy growing!
Katie