Let's start by choosing a good rose for your area
If you haven't read my post on choosing a good rose, where I share roses that I've grown on our farm and love, then check that out first here.
Deciding which rose(s) to grow can be overwhelming–there are so many to choose from. My grandmother had a love for roses, and while the flowers that graced her table were pretty, I was never very impressed by the thorny, scraggly bushes (if you can call them that) that were peppered throughout her yard.
However, roses, like so many things, have come a long way. Breeders like David Austin have dedicated their lives to making new roses that have fragrance and charm but bloom from a much healthier and more disease resistant bush. Check out your local nursery for available roses; just do your research on varieties that grow best in your area. Here are my favorite places to buy and learn from: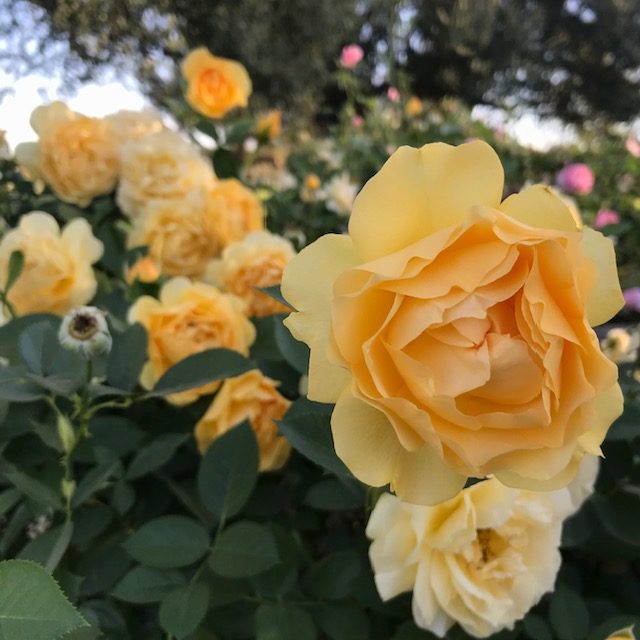 Why bare root roses? These are a great option since they ship easily and are much more affordable. Plant them during their dormancy, which for me, growing in zone 8a, is usually February to early March. They establish quickly with minimal transplant shock and are a great way to add more roses to your garden.
Let's look at some terminology: own root vs. budded
Own root means that the plant grows on its own root. If the plant were to die back to the ground, then it would come back true to itself. For example, a cinco de mayo rose would come back as a cinco de mayo rose.
Budded or grafted means that the variety has been grafted into a root stock that performs better in the native soil. Most budded roses are on a root stock called Dr. Huey. If this plant were to die back to the ground, then the Dr. Huey rose would begin growing in its place (and you will have a surprise rose!)
I prefer "own root" roses if possible. But many of the newer varieties are grafted and you just have to go with it.
Preparing the planting area:
Now that you have a long list of roses that you would like to try and have maybe settled in on a few, it's time to decide where you want to grow your roses. Consider the following:
amount of sun – give them at least 6 hours, if not more a day. Most will not tolerate shade.
soil – well draining soil is helpful to most plants and true of roses. Old world varieties and newer conditioned varieties are tougher than you would think, but give them the best chance of survival by choosing a location that doesn't have heavy clay or is a major drainage path.
wind & elements – if you live in a windy area, or a place that experiences some extreme weather conditions, you may want to strategically place your bushes where they have some protection. For example, in my rose garden, I am planting a "living hedge" of mixed evergreen shrubs and trees along the northern border for a buffer against the harsh winds that we sometimes get.
access to water – we will talk about this later, but drip irrigation is the best method of watering. Spraying roses with water is an invitation to all kinds of fungal problems.
Bare root planting specifics:
Let's get dirty.
soak your bare root shrub in water for 12-24 hours. Keep the roots in water until you have dug your hole and are ready to plant (I use plastic storage bins, 5 gallon paint buckets and even kitty litter boxes to soak them in!). If any parts of the bare shrub looks dead or diseased, remove that portion (see the 3rd picture; I had to remove a few sections from the canes–the black part.)
dig a hole that is a little wider than the crown / circumference of the plant but not any deeper than the roots. Tip: lay a stick (bamboo rod or the neck of a shovel) across the planting hole as a depth guide.
The "bud" or joint from the roots to the top portion of the shrub should sit at ground level in most cases. In hotter climates, that graft can sit and inch or so above the soil level. In colder climates, bury the graft so that the base of the plant sits just at ground level. If you need to trim the roots a little, that is fine. Just leave at least 12 inches of both root and shrub.
sprinkle a Tablespoon of mycchorizal fungi over the bare roots and over the hole so that any overage falls into the growing space. This helps reduce transplant shock and encourages healthy root growth. (This is mutualism at its finest! The fungus and plant roots work together and really help the overal health of your plant!)
form a "ball" of compacted soil beneath the triangular root area for the plant to "sit on." This gives the plant some support.
backfill with native soil. It's tempting to add all kinds of fertilizers and foods, but don't. You can mix a shovel-full of quality compost in if needed, but native soil is the best.
top dress by adding two inches of compost around the base of the plant. You can also add wood chips to mulch and protect the base of the plant. This helps retain moisture and protects from both extreme hots and colds.
water every day for the first week, or until new leaves begin to emerge. Then water about once a week.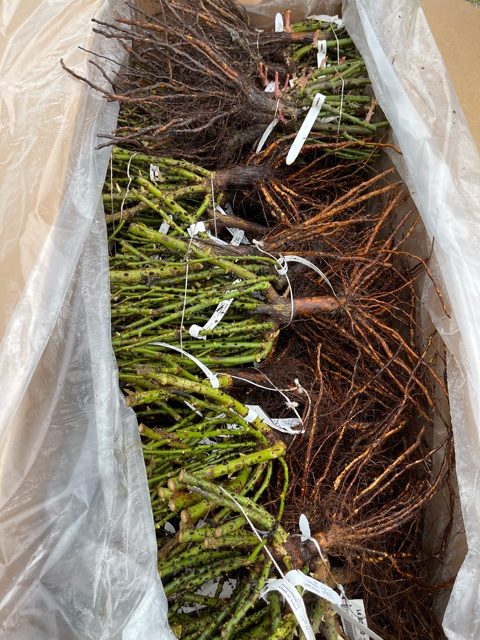 One great thing about roses is that you will have blooms in the first year!
See the next post for how to care for and feed your roses.
For a video showing these techniques, watch THIS from rose experts at David Austin Roses.