I love planning and deciding what to grow in my flower pots each spring.
As you scroll through pictures and check the nurseries to see what is blooming and looking healthy, here are somethings to consider:
First, which container should I use? Anything from a galvanized trough or bucket to a beautiful piece of pottery can be used. The most important part of a container is that it drains well.
Next, will the planter be used in the sun or shade?
Will the plants I choose still look good at the end of the hot summer?
Then, how will I water the pots? Will I remember to water the pots?

Last, do the plants I choose have the same watering needs? For example, trailing rosemary is beautiful, but it prefers to be drier than most flowering plants–I learned this the hard way. A few other plants that prefer the soil to dry out before each watering: rosemary; lavendar; thyme; succulents; citrus.
Color considerations?
Remember the elementary school color wheel from art class? Yep, think back to that. Two great options are:
to plant in opposite colors if you like things really bright
or go monochromatic.
I tend to favor a monochromatic scheme. Greens don't count–any are fair game, although silvery greens such as lamb's ear or dusty miller can be treated as a blue. (So they look great with colors next to blue–lilac, purples, hot pinks, pale pinks, etc.). I usually don't mix a silvery green with a bright, lime green. But again, there really are no set rules; just use this information as a starting point.
And speaking of color, one of my favorite ways to think about color tones is from The Nester, Myquillin Smith. She refers to colors as either "clear" or "muddy."
Clear colors are bright colors, black and white colors. This includes primary colors, neon colors, etc. They are cool tones.
Muddy colors are warmer tones that have brown in them. Some terms you may hear in this group are earth tones, terra cotta, antique, muted. Sticking to either a "clear" (cool) or "muddy" (warm) pallett will look best. But of course, sometimes rules can be broken.
Once you've considered those questions, it's time to take a trip to the nursery. Look for healthy plants and get at least one item from each of the following categories:
Thriller, Filler, Spiller
Thriller: This is a plant that is upright and showy. Examples are ornamental grasses, ferns, caladiums, allium, garlic, Swiss chard, globe amaranth, esperanza, geraniums, or any shrub in topiary form. Most of the time this plant will go in the middle of the container or at the rear of the container if it's only being viewed from one side.
.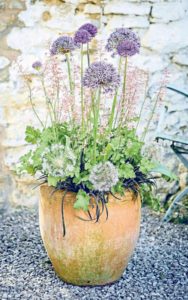 The allium and flower spikes from heuchera act as the thriller here.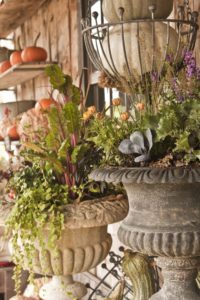 Swiss chard is perfect in an edible garden flower pot.
Filler: Choose something that will fill out the middle area of the pot such as lamb's ear, dusty miller, coleus, bushy lantana, a shrub such as boxwood or dwarf yaupon holly, or flowers with lots of foliage such as geraniums, plumbago, dwarf zinnias and mums.
There are a lot of different plants in these planters, but it doesn't look too busy with the monochromatic color scheme. Some of the flower stems and heads, like coneflower and bells of Ireland, give both height and fill out the middle.
Heuchera, or coral bells, give lush foliage through the middle of the planter and its flowers add nice drama and height to the flower pots.
Spiller: This is a plant that will trail nicely down the side of the pot. Sweet potato vine, ivy, moneywort (my new favorite!), some types of petunias, trailing lantana or moss rose are all good choices.
A giant container highlights masses of "spillers." This scale is quite grand. (I really want to see someone stadning next to it!)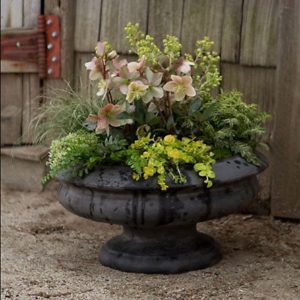 Hellebores are one of the first flowers to show their beauty in spring. Adding some grasses for "filler" and texture, along with small ferns or moneywort for the "spill" give this planter a nice look.
While the thrill, fill and spill method is good, sometimes just packing a container with one plant, or a grouping of similar containers with the same plant or the same colors, can be stunning.
Roses look great in flower pots alone.
The shape of this flower pot is highlighted by the mass of geraniums filling and trailing down its side.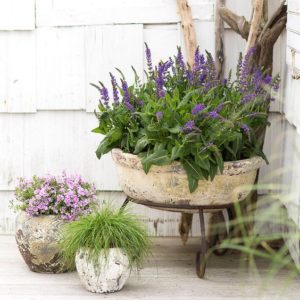 Something as simple as a salvia makes a huge impact when packed into a rustic piece of pottery.The plant stand elelvates it nicely. (pun intended!) Notice the monochromatic colors of purpley-blue and rosey-lavender.
Certainly going green works. Here, classic terra cotta is stuffed with citrus and other textures and shades of green. Green is a pefect color if you need or want simplicity, or if you have a lot of color and busy near by. Green makes a great backdrop.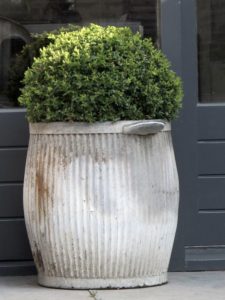 Using a single shrub is a good choice for year-round interest. Dwarf yaupon holly or boxwoods are the most common, but any kind of hardy evergreen works. A good rule of thumb for four-season containers is that the "hardiness" of the plant should be one to two zones lower than your growing zone. So if you live in zone 8, find something that is hardy to zone 6 or 7.
Agapanthus or anything in the garlic family would give a similar look.
Finally, don't get stuck to the formula. Here, mixing just geranium and asparagus ferns totally works! Be creative and enjoy the process!
I love planters because you can pack them with loads of color and texture. Forget about any spacing suggestions on the nursery tag. In a container, you want to really plant tightly since it's only meant to last a season. I consider planters to be an experiment (the scientist in me comes out!). Try some things. If they don't work, take note and try something different next year!
Happy planting!